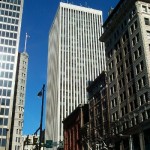 Stratford Realty Management Company, a Baltimore-based property management and leasing company, aligned with CQI Associates, LLC, a Columbia, Maryland-based energy and environmental management consulting firm, to complete the U.S. Green Building Council's LEED® for Existing Buildings (EB) Certification of 201 N. Charles Street in Baltimore, Maryland. This accomplishment makes 201 N. Charles Street one of the first buildings to receive the LEED® Gold EB Certification in the downtown Baltimore business district.
Managed by Stratford Realty Management Company, 201 N. Charles Street is a 326,768-square-foot, 30-story, Class-A office building located blocks from Baltimore's Inner Harbor.  Tenants include Bank of America, Booz Allen Hamilton, and Johns Hopkins University. The building is in exceptional condition and has been expertly maintained, giving the appearance of a building far younger than one built in 1967. 201 N. Charles Street is a BOMA (Building Owners and Managers Association International) award winning building.
Achieving LEED® Gold EB Certification
CQI Associates completed an initial energy assessment of the building in early 2009, then provided Stratford Realty Management Company with a list of recommendations for improving energy efficiency and working toward the LEED® Gold EB Certification. Both companies worked closely together to implement the recommendations and complete the certification process.
The initial investment in the project's green and sustainable technologies, strategies, and design resulted in an estimated savings of more than $130,000 in the first year.  With an ENERGY STAR performance rating of 80, 201 N. Charles Street is 60 percent more energy efficient and annually saves $1.43 per square foot in energy costs when compared to the average U.S. office building.
Reducing Costs and Consumption
A significant program highlight recommended by CQI Associates was the addition of variable frequency drives (VFDs) on the major air handling units in the building. Control was also added to the building automation system, thus allowing control of the VFDs, as well as the ability to control the dampers for each floor.  This in turn enables the building automation system to efficiently manage the air flow to different floors, which is particularly useful when the floors are unoccupied.  The management team has already seen a reduction in energy costs and consumption due to the implementation of the VFDs. 
Another project highlight helping to garner the LEED® Gold EB Certification was the installation of dual flush toilets in the ladies rooms on every floor in the building.  A 22% reduction in water use for all fixtures was found when using a performance calculation according to the LEED® templates.
"CQI Associates was thrilled to partner with Stratford Realty Management Company to complete the U.S. Green Building Council's LEED® Gold EB Certification for 201 N. Charles Street," said Principal Richard Anderson. "Our passion is for the environment and helping businesses achieve a higher level of sustainability and corporate social responsibility. With origins in energy management, CQI Associates has the experience and expertise to lead the most unique and challenging projects toward successful implementation and LEED® Certification."