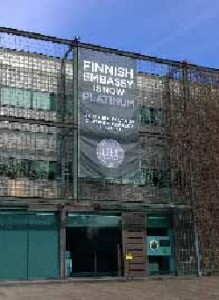 The Embassy of Finland in Washington DC, partnered with CQI Associates, LLC, a Columbia, Maryland-based energy and sustainability management consulting firm, has been awarded the Leadership in Energy and Environmental Design (LEED) Platinum certification.  It is the first embassy in the US to achieve Platinum LEED certification.  This certification builds a unique transatlantic link, with the US Embassy in Helsinki being the only other Platinum LEED Embassy in the world.
CQI Associates completed an initial energy assessment of the building in the spring of 2009, then provided a list of recommendations for improving energy efficiency working toward the original LEED® Gold EB Certification.  CQI Associates worked closely with the Embassy of Finland's staff to implement the recommendations and complete the recertification process in 2014.  "We were truly honored to be selected for this project by the Embassy of Finland, known for their great contributions and commitment to the environment," said CQI Associates Principal, Richard Anderson. "Our teams worked together to achieve the first LEED® Gold EB Certification for an embassy in the United States in 2010 and re-certified the building in 2014 to achieve a Platinum Certification.
Green thinking impacts all day-to-day actions of the embassy.  It has a rigorous green purchasing policy, recycling is a priority and the staff is encouraged to walk, bike or drive hybrid cars to work.  The results have been worth the efforts.  Currently the embassy is using 50% less electricity and 65% less gas compared to usage in the mid-2000s.
"I am extremely proud of this achievement.  Our embassy has gone from green to gold, and now platinum.  All this reflects Finland's strong commitment to environmental sustainability, and we are a leading country in renewable energy and clean technology. We are happy to share leadership in this area with our friends at the US  Embassy in Helsinki," said Finland's Ambassador Ritva Koukku-Ronde.
http://www.finland.org/public/default.aspx?contentid=319614&culture=en-US
About CQI Associates, LLC

CQI Associates, LLC is a leader in energy and sustainability management consulting.  The firm offers services that allow clients to increase profitability by minimizing operating costs of small businesses to national accounts such as Northrop Grumman.   To learn more about CQI Associates, please visit www.cqiassociates.com or call (410) 740-0667.