Renewable energy accounted for about 13% of the total United States utility-scale electricity generation in 2011, placing the U.S. behind just China in total electricity generation from renewable energy. And while solar power was responsible for less than 1% of all renewable-generated electricity in the U.S. last year, the use of solar energy is growing rapidly.
1. In the first quarter of 2012, developers installed 85% more solar panels compared to the first quarter of 2011.
2. Total U.S. shipments of solar photovoltaic (PV) modules in 2011 hit a record high, increasing from 2,644,498 peak kilowatts in 2010 to 3,772,075 peak kilowatts in 2011, a 43% increase over 2010. Peak kilowatts stands for peak power. This value specifies the output power achieved by a Solar module under full solar radiation.
3. From the beginning of 2010 to the end of June 2012, 1,308 megawatts (MW) of new utility-scale solar capacity has come online, more than tripling the 619 MW in place at the end of 2009.
4. The Energy Information Administration projects solar power to reach 18,000 megawatt hours per day in 2013.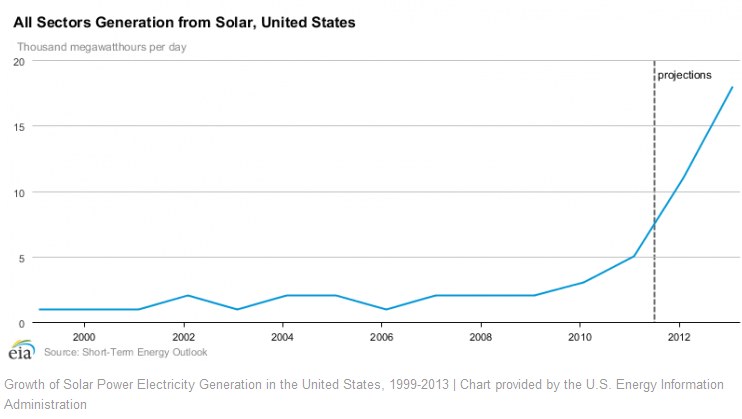 Interesting Facts about Solar Power in the United States
1. Solar energy is the most abundant energy source on the planet, with 173,000 terawatts striking the Earth continuously. That's more than 10,000 times the world's total energy use.
2. The first solar cell was built in 1954 by Bell Laboratories.
3. The space industry has utilized solar power since the 1960s, when they began harnessing solar energy to provide power to spacecraft.
4. The world's largest solar energy project, consisting of 350,000 solar mirrors, is underway in California's Mojave Desert.
Prices continue to fall, but Obstacles remain
As prices of both solar cells and solar modules continue to fall – solar cells dropped from 1.13 in 2010 to $0.92 in 2011and solar modules (a packaged connected assembly of photovoltaic cells) dropped from $1.96 in 2010 to $1.59 in 2011- the feasibility of solar energy use in the U.S. continues to increase. And these prices are expected to keep dropping in 2012 as solar technology advances.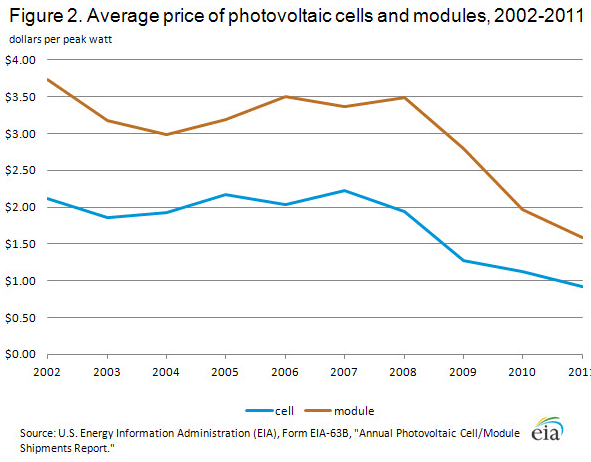 Still, there are hurdles that the solar industry must still address, such as soft costs (permitting, zoning, and hooking the solar system to the power grid). On average, these soft costs can add more than $2,500 to the total cost of a solar energy system.
As you can clearly see, solar power is not going to take over the energy industry in 2012, but we are headed in the right direction!
To learn more, please contact CQI Associates by calling 410-740-0667 or visit CQIAssociates.com today!
CQI Associates has saved our public and private commercial clients well over $1,500,000,000 based on our energy and environmental program and project saving recommendations.
You can also follow us on Facebook, Twitter, LikedIn, and Google+