Imagine New York being powered by wind, water and sunlight instead of traditional power sources. That fantasy isn't too far from what could be reality according to a new study led by researchers from Stanford and Cornell universities. The study cites that by 2030, only 17 years from now, New York may be able to rely on totally green energy sources for power. From the windy shores of Long Island to the sunny center of New York City itself, these places may be central in New York's new power strategy. This plan could have a ripple effect throughout the energy community and influence more states to do the same.
Their energy goal is for the New York State Energy Research and Development Authority to support the production of about 10.4 million megawatt-hours of energy from hydro, wind, solar, biomass and landfill gas annually by 2015. The authority was 46 percent of the way to the goal at the end of last year. This in turn could lead to 30 percent renewables by 2015. This kind of progress is monumental in the field of renewable energy. Just imagine: in a New York minute, you'd be able  to get some famous New York pizza and a cup of coffee from ovens and coffee makers powered by wind or solar power!
New York isn't the only place making green energy strides. In March, the General Assembly in Maryland passed a bill approving offshore wind turbine development. The bill itself would require electricity suppliers in Maryland to get up to 2.5 percent of their power from offshore wind as early as 2017. And it would offer a successful developer a subsidy of up to $1.7 billion over 20 years. This could be a larger step in what seems to be a bright future for green energy sources. Trade the pizza in the New York scenario for some authentic Baltimore crab cakes eaten under green energy-lit lights, because it could very well be the future.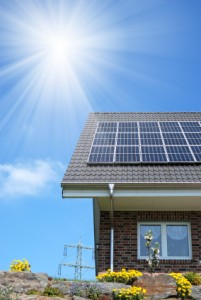 The benefits of green, renewable energy are many. As the Union of Concerned Scientists points out, they include:
Little to No Global Warming Emissions

– Renewable energy sources produce a negligible amount of harmful emissions compared to natural gas or coal. Increasing the supply of renewable energy would replace carbon-intensive energy sources and significantly reduce U.S. global warming emissions
Improved Public Health and Environmental Quality

– The air and water pollution emitted by coal and natural gas plants is linked to breathing problems, neurological damage, heart attacks, and cancer. Wind, solar, and hydroelectric systems generate electricity with no associated air pollution emissions. In addition, wind and solar energy require essentially no water to operate and thus do not pollute water resources or strain supply by competing with agriculture, drinking water systems, or other important water needs.
A Vast and Inexhaustible Energy Supply

– Throughout the United States, strong winds, sunny skies, plant residues, heat from the earth, and fast-moving water can each provide a vast and constantly replenished energy resource supply. These diverse sources of renewable energy have the technical potential to provide all the electricity the nation needs many times over.
A More Reliable and Resilient Energy System

– Wind and solar are less prone to large-scale failure because they are distributed and modular. Distributed systems are spread out over a large geographical area, so a severe weather event in one location will not cut off power to an entire region. Modular systems are composed of numerous individual wind turbines or solar arrays. Even if some of the equipment in the system is damaged, the rest can typically continue to operate.
CQI Associates has green energy solutions for your business. We are an energy and sustainability management consulting firm servicing residential and commercial clients throughout the United States. To learn more, please contact CQI Associates by calling 410-740-0667 or visit our website today!
You can also follow us on Facebook, Twitter, LinkedIn, and Google+!
Sources:
NY Renewable Energy Study Finds New York Could Soon Be Powered By Wind, Water And Sunlight, Huffington Post
O'Malley offshore wind bill passes, The Baltimore Sun
Benefits of Renewable Energy Use, USCUSA